3D Printing (or better known as additive manufacturing) refers to a bunch of processes that offer a spectrum of potential means for the production of parts and products in different fields. To draw a picture, it mainly focuses on the making of a physical object from a three-dimensional digital model, typically by laying down successive layers of a specific material. In recent years, 3D printing has gone beyond being an aid just to the industrial and manufacturing process. From small-scale ventures to budding enthusiasts, everyone is making use of 3D printing techniques to integrate processes smoothly. Hence, one can see exponential growth in its popularity and usage in almost all fronts of the socio-economic sector.
Importance of Additive Manufacturing
1.  It is rewriting the rules of production:  Additive manufacturing is very self-contained. In working, it essentially creates a foundation to support the object in focus throughout production. When the product is ready, post-production gets as simple as snapping off the excess supports. For this very reason, additive manufacturing has proved to become extremely popular amidst production companies and engineers, especially for the help it brings in prototyping and simulations. If one has the design ready, then one can create the physical part within hours with 3D printers and technologies.
2.  It encourages better designs for optimal performance:  An important characteristic of additive manufacturing is its ability to create parts that might not be possible with traditional manufacturing methods. It helps the designers and inventors to envision models without estimating the risk factor. 3D printing doesn't impose much or at times, no limits in the context of exploring designs. There are no molds or concerns about cutting tools or any risks to be calculated. It has opened a whole new arena for innovators to test new designs and bring them into production.
3.  It enables 'Value Stream Mapping':  Additive manufacturing as a rule mainly only uses the materials needed for the part, which in effect, drastically reduces waste during production. It also doesn't experience the long raw material production and process time-cycles, ones which are generally required in making molds, casts, and finished (direct to manufacture) parts in certain materials. During your value stream mapping, additive manufacturing reduces the waste and generates exactly the components and parts in need. Additive manufacturing can reduce the number of steps in a production process, both in tool making and direct manufacturing, reducing the need for manual assembly, even to the point where the entire assembly of the right part might be printable.
Benefits of Additive Manufacturing
Additive manufacturing allows for the creation of lighter, more complex designs that are too difficult or too expensive to build using traditional dies, molds, milling, and machining. With additive manufacturing, designers can now realize the dream of utilizing organic structures to greatly reduce the weight of objects and envision models without estimating consequences.
1.  Helps in building complex geometries:  The technology enables engineers and innovators to design parts that incorporate complexity that is not possible using other methods. Intricate features and complex machine component ideas can be incorporated directly into a design. Parts that previously required assembly and welding or brazing of multiple pieces can now be grown as a single part, which makes for greater strength, reliability, and scalability. Designers are no longer restricted to the limitations of traditional machines and additive manufacturing has granted them the freedom to create parts with greater design.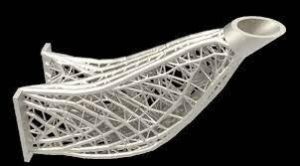 2.  Saves time:  Additive manufacturing is ideal for getting prototypes made quickly. Parts are manufactured directly from a 3D CAD file, which eliminates the cost and lengthy process of having fixtures or dies created. To top it all, new changes can be made mid-stream with virtually no interruption in the process. This has resulted in faster manufacturing processes and a considerable hike in productivity.
3.  Reduces waste and weight of products:  By incorporating organic structures into designs, designers can eliminate substantial weight while maintaining the part's strength and integrity. Additive manufacturing generates significantly less waste than traditional manufacturing methods. For example, a milling machine works by removing material from a block that is bigger than the product itself will be. The removed material is usually in the form of kindling or shavings that cannot be reused and therefore end up as waste.
Applications of Additive Manufacturing
1.  Aerospace:  Aerospace companies were some of the first to adopt additive manufacturing. Engineers designing and manufacturing for commercial and military aerospace platforms need flight-worthy components made from high-performance materials. Common applications include environmental control systems (ECS) ducting, custom cosmetic aircraft interior components, rocket engines components, combustor liners, tooling for composites, oil and fuel tanks, and UAV components. 3D printing delivers complex, consolidated parts with high strength. Less material and consolidated designs result in overall weight reduction – one of the most important factors in manufacturing for aerospace. The benefits of additive manufacturing for major companies and organizations continue to push forward the innovative designs and applications for the world of flight.
2.  Automotive:  Automotive industry is one such sector that has immensely benefited from the progress in 3D printing technology. It has become the fastest-growing vertical by employing the applications of additive manufacturing. From BMW to Volkswagen, the who's who of the industry have aligned their manufacturing processes with innovations of 3D printing to generate stronger, safer, and better designs and products. The applications of additive manufacturing include designing better models and prototypes, upscale production tooling, and better performance validation based on simulations in testing. It has helped in an easier evaluation of the ergonomics of machines and helped meet optimal viability and delivery standards with its tools and techniques.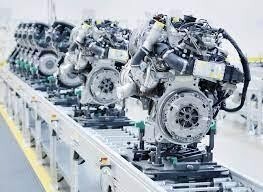 3.  Medical:  The rapidly innovating medical industry is utilizing additive manufacturing solutions to deliver breakthroughs to doctors, patients, and research institutions. Medical manufacturers are utilizing a wide range of high-strength and biocompatible 3D printing materials from rigid to flexible and opaque to transparent to customize designs like never before. From functional prototypes and true-to-life anatomical models to surgical grade components, additive manufacturing is opening the door to unforeseen advancements for life-saving devices. Some applications shaking up the medical industry are orthopedic implant devices, dental devices, pre-surgery models from CT scans, custom saw and drill guides, enclosures, and specialized instrumentation.
Limitations of Additive Manufacturing
1.  Slow production speed:  Many current industrial 3D printers still lag behind traditional mechanized equipment in terms of speed and efficiency. This, particularly, has become an obstacle for adoption in industries driven by mass serial production such as automotive and consumer goods. Most 3D printer manufacturers, targeting production applications, are looking for ways to make 3D printing faster. Some have developed modular systems that can help increase throughput, while others are working to further improve the technology behind their existing machines. That being said, it is certainly confident that 3D printing will ultimately get there as the progress continues.
2.  Manual post-processing:  The reality of 3D printing is that virtually all parts coming out of a 3D printer require some type of post-processing to improve the mechanical properties, accuracy, and aesthetics of a part. As the technology is transitioning to an end-part manufacturing process, scaling, and automating; post-processing has become one of the key bottlenecks to establishing AM production lines. When it comes to metal 3D printing, post-processing technologies, used for traditionally manufactured parts, are currently being adapted for 3D-printed components. Accordingly, a robot handles most of the process steps, such as feeding the printer with build boxes and then removing them for post-processing. But still, the goal is to eliminate all manual work to facilitate continuous high-volume production.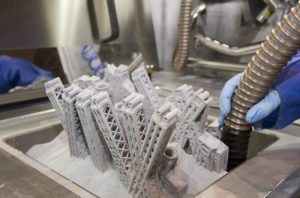 3.  Lack of industry-wide standards:  In manufacturing, standards are essential, as they outline the parameters that must be met to deliver a quality product. Raw materials, machines, equipment operators and engineers, suppliers and the manufacturing process itself; all need standards and a mechanism for qualifying/certifying against those standards to make parts with the required quality. Although 3D printing has been around for more than 30 years, the manufacturing world began to recognize it as a production method only recently. The lack of 3D printing standards remains one of the key bottlenecks slowing down its wider adoption. However, there have been a lot of promising developments on this front. Some of the largest standards developing organizations like ISO and ASTM International have established committees dedicated to AM standards development. Standards development is also greatly bolstered by industry collaboration and partnerships. While standards development is a time-intensive process, the recent progress suggests that it will eventually yield results, enabling manufacturers to develop and implement AM applications faster and more easily.
This brings us to the end of this guide on additive manufacturing.  To learn more about 3D Printing, enroll in the course of 3D printing brought to you by Labdox.